This charming town, located in between emerald rice paddies and deep river valleys of Bali, is widely known as the spiritual and cultural heart of the island, and a wedding in Ubud is truly something special - more beautiful than you have ever imagined your wedding to be! Soaring onto the global stage in the movie that starred Julia Roberts called 'Eat, Pray, Love', Ubud has become one of the main tourist hotspots for visitors looking for something a little different from a traditional beach holiday.
It is no surprise therefore, that many couples are now choosing Ubud as the location for their special Bali wedding ceremony. With it's peaceful atmosphere and stunning natural surroundings, Ubud gives a sense of divine spirituality and it is a perfect location for couples looking to organize the wedding of their dreams. With endless rice paddies, lush green river valleys and Balinese temples, there are many amazing settings couples can choose to get married in. Couples can design their own dream wedding with the help of experienced wedding planners. Ubudwedding packages are also plentiful and they will certainly help to inspire you and find ideas for your own wedding in Ubud.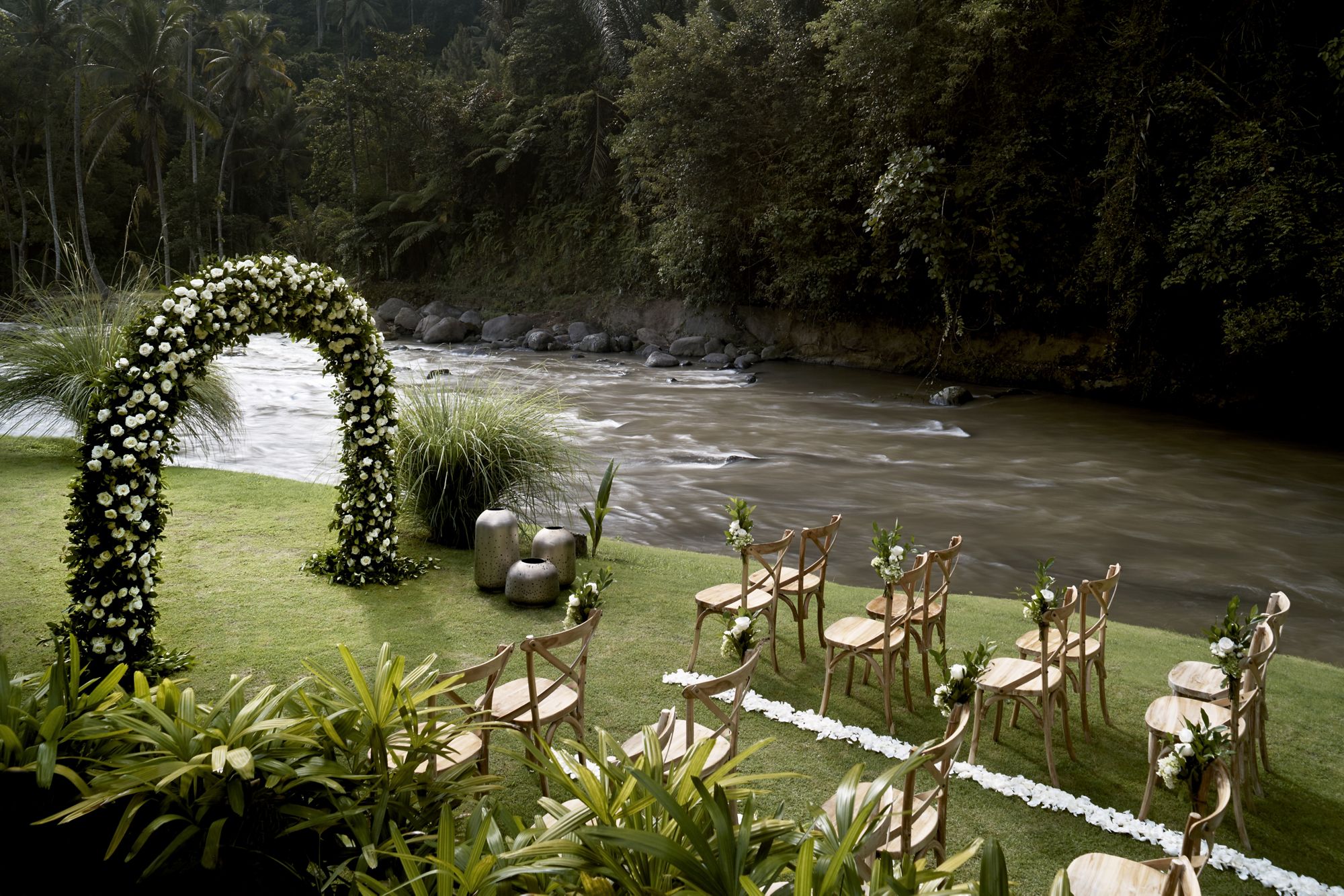 There are so many wonderful delights to explore in and around Ubud. You can walk down a narrow path from Ubud's centre and find yourself with jaw dropping views of rolling hills, gentle water flowing and verdant rice paddies. The centre hosts a plethora of amazing cafes and restaurants that serve mouth watering dishes from organic vegetarian delights to succulent gourmet burgers. Once your belly is full of all the yummy food and healthy smoothies, you can stroll along absorbing the creative crafts from some of the very talented local artists. This dynamic inland cultural centre is a slice of heaven on earth for those who enjoy good food, yoga and shopping, oh yes, and amazing massages in the middle of lush green rice fields!
Ubud weddings & the perfect wedding packages
Couples can choose from a variety of custom designed or natural venues for their Bali wedding in Ubud. The surrounding villages boast some of the island's most luxurious hotels and villas. Ubud also offers more unique style venues ranging from open air riverside decking, rainforest inspired settings with blankets of leafy trees to special Hindu Temples where couples can enjoy a more traditional Balinese wedding ceremony. It is your wedding and it is all up to you - almost everything is possible!
Here are some examples of Ubud wedding packages.
Hotel Wedding in Ubud
You can enjoy all the amenities you need for before, during and after your wedding right at your fingertips in the grounds of a 5 star luxury resort. One such location, based in the heart of Bali jungle in the district of Ubud is called Kupu Kupu Barong. This popular exclusive hotel is perfect for couples seeking a good blend of luxury, convenience and a lush green tropical jungle setting. The service is second to none and you can enjoy a romantic dinner right in the middle of a clear glassy pool. This Ubud wedding venue provides a stunning backdrop to those all important wedding photos, ensuring the bride stands out like a jewel against such lush verdant greenery.
Villa Wedding in Ubud - The Puri Wulandari Resort and Spa
Nestled between river and jungle, the Puri Wulandari Resort and Spa oozes romance and tranquility. This exclusive resort boasts 35 private, luxury villas that meander around the lush green jungle setting. Puri Wulandari is the perfect location for couples looking for the ultimate romantic wedding ceremony, or a relaxing, tranquil romantic break. The service is outstanding and personalised to suit the needs and wishes of each and every couple, ensuring that every second of their stay is spent in blissful, romantic harmony.
Traditional Balinese Temple Wedding
Every corner of Ubud is adorned with stunning stone carved temples decorated with colourful offerings and wonderful odours of incense. Some wedding packages provide couples with an opportunity to absorb some of Bali's unique and wonderful culture into their wedding day. The Seven Agency offers a fantastic Ubud wedding package called The Royal wedding package. With this wedding package, the bride gets to feel like a real Balinese Princess for the day. The ceremony takes place in a unique Hindu temple decorated with multi coloured decorations, and stone carvings of traditional Balinese myths and legends. Adorned in traditional Balinese wedding costumes, the lucky couple can enjoy a truly unique ceremony with Balinese villagers showering gifts and flowers.
How to find the best package for your Ubud Bali Wedding
The above mentioned Ubud wedding packages may already be a big inspiration source of how you would want your wedding in Ubud to be like but this is just the beginning. You may have an idea about the key features and the setting for your Ubud wedding but from this base, you can start custom-designing your Ubud wedding package to your personal hopes, dreams and wishes. How to do this? At the Seven Agency, an experienced Bali-based wedding company, we are specialized in tailor-packaging unique weddings.
The wedding experts will stand next to the bride and groom and together you will make your dream wedding happen, fitting the 'picture perfect' in your mind. There is personal attention and 24/7 customer support, there is room for modifications wherever wanted or needed and you can add unique experiences and elements to your wedding day. Whether you want to get married beneath a cascading waterfall or at the edge of a deep river gorge, whether you want to be dressed in white or a traditional Balinese custom and arriving by police escort on in a retro vintage vehicle, you name it, your personal wedding planners at The Seven Agency will arrange it! Couples can freely brainstorm, our professional wedding experts will encourage this, after all, it is your personal touch that makes the wedding day unique and truly something special.
The team at The Seven Agency have carefully selected the best wedding venues in and around Ubud and they are constantly on the lookout for new and unique options for couples looking for something a little different from a traditional Bali beach wedding. Our personally selected and inspected venues offer a variety of options for couples who have set their heart on having their ceremony in this special place on world's one and only 'island of the Gods'. Venues draped in lush green surroundings and topped off with a touch of culture, Ubud is an ideal location for couples wanting something extra special on their big day.
Hundreds of happy brides and groomes joined hands with The Seven Agency before to organize their wedding in Ubud. Have a look at their reviews here. Ready to start planning your wedding day in this most cultural and spiritual town of Bali? Make a connection now and start planning the most special day in your life today. The Seven Agency wedding experts are ready to help, assist and inspire every minute of every day.